The IRD is not rocket science!
Let us hope that newspapers remain part of the landscape for a long time. There is absolutely no substitute for competent, accurate, investigative journalism. A recent newspaper article proves my point ("Bank client floored by penalties"). This exceptional journalist shines light on one of the numerous Canadian lenders that fail to get their act together regarding the so called penalty, the IRD.  For over 25 years I have made it my mantra, … the Interest Rate Differential (IRD) in Canada needs to be standardized. ALL LENDERS should be bound by law to use the same method of calculation for the IRD as originally outlined by CMHC in a consumer booklet, they printed, many years ago.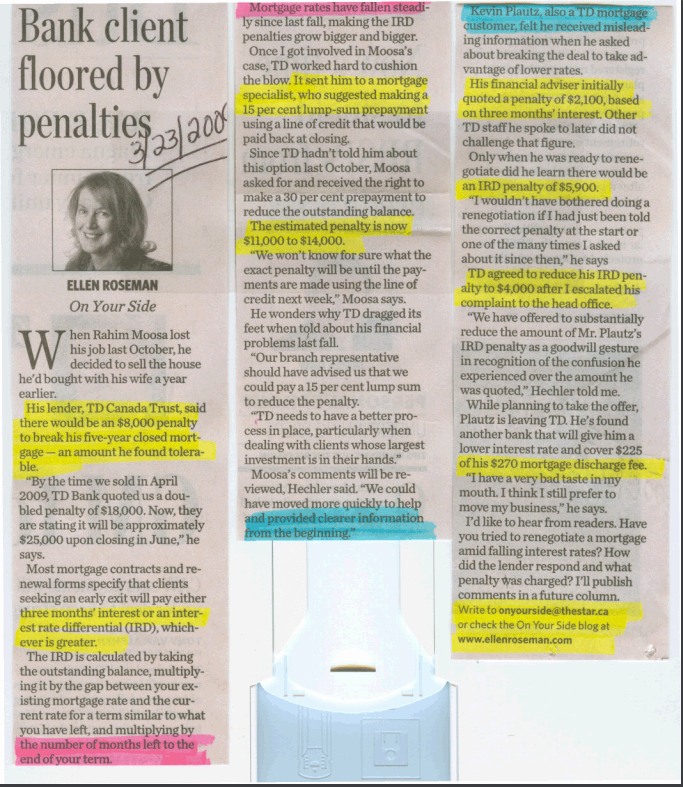 It is sad and ironic that in another newspaper column on the same day, a Canada Mortgage and Housing Corporation (CMHC) district manager wrote an article on how to paint your house ("Primping your palace with paint"). Canadians are concerned about their mortgages because of the North American sub prime mortgage fiasco! Breaking mortgage contracts in a fair manner is crucially important, … not painting your house! I believe timely information from CMHC on mortgage refinancing and the IRD "penalty" would better serve Canadians who are contemplating breaking their mortgage terms in order to take advantage of the record low annual interest rates.