35 Year Mortgages are in the news
Canada Mortgage and Housing Corporation recently announced a 35 year mortgage. Apparently the "thinking" behind this new plan is, "You can buy more house with energy-efficiency upgrades with the same income". Apparently the "savings", due to the lower monthly payments because of the longer amortization period can be applied to energy-efficient upgrades.
Before you run off to try and save the planet from carbon dioxide build up, lets look at the numbers and see what this "plan" will cost you. Lets use a $300,000 mortgage at 5% with monthly payments (CMHCs example) even though most people now know the accelerated weekly payment mortgage is the optimum way to go in order to save the most in interest costs.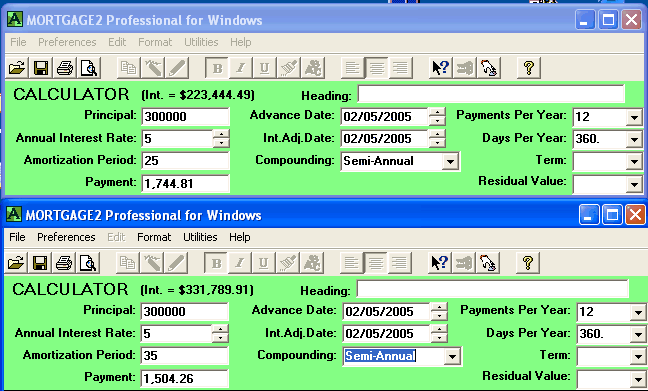 The "savings" each month that can be used for energy-efficient upgrades over the next 35 years is $240.55. The extra interest you would pay is $108,345 over the 35 years, compared to the higher monthly payments over the 25 years. Lets assume you go with the 35 year plan, but decide to invest the $240.55 per month in a financial vehicle that paid "5% per year" for the next 35 years, instead of energy–efficient upgrades? As you can see the accumulated monthly outlay of $240.55 for 35 years would give you $270,193 inside a tax free vehicle (RRSP).
This initial and simple analysis should alert home buyers that the good intentioned "savings" plan needs further in depth analysis before jumping in with both feet and walking away from $270,000!!!